Bears in Bull's Clothing

There are just a lot of people who are relatively bearish on the economy and the outlook, yet positioned bullishly. It is based on the central bank liquidity and another round of can kicking in Washington. The Fed played re-iterated its commitment to flood the world with liquidity. Washington is likely to reach some compromise. Is that enough?
I have shifted from small bearish to more bearish, primarily because I think so many other people are bullish. The bulls are all limit long. The bears are small long. Even I have had some "funky" longs like Greece and China.
I am worried that if something happens to spook the markets, there just aren't that many buyers left. I am also convinced that there aren't that many buyers left to drive U.S. markets in particular that much higher.
That seemed to be the case yesterday. Everyone seems to think everyone else has money on the sidelines waiting to come in. I think everyone is actually waiting for new people to come in so they can sell and put some money on the sidelines.
Within the U.S. the market that seems to have the most potential upside is HY CDS. It has duration and isn't universally loved, unlike high yield bonds. I'm not there yet and I still think
the HY ETF's are good shorts here based on their portfolios and what I think is very limited near term upside.
We will see what happens and maybe I will get sucked in, but I think positioning is far too aggressive here and we are in for a surprise. Mind you, that is looking for a 2-4% move, nothing crazy.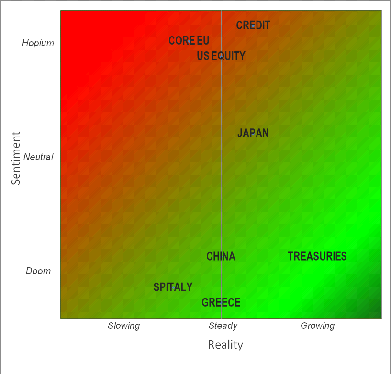 Disclaimer: The content provided is property of TF Market Advisors LLC and any views or opinions expressed herein are those solely of TF Market Advisors. This information is for educational and/or entertainment purposes only, so use this information at your own risk. TF Market Advisors is not a broker-dealer, legal advisor, tax advisor, accounting advisor or investment advisor of any kind, and does not recommend or advise on the suitability of any trade or investment, nor provide legal, tax or any other investment advice.