What is Priced In?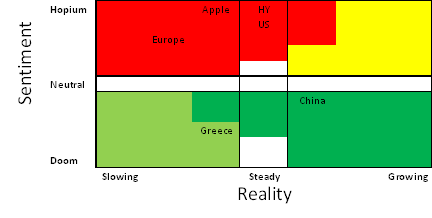 Here is a simplistic view of what is priced in.
It is my best guess of overall sentiment which is largely based on the hopes and dreams of political action, central bankers, and overall assessment of future prospect. It ranges from all out all out wringing of the hands and gnashing the death doom, to rose colored glass, unicorn watching hopium.
Then there is what is really going on in the economy.
Boxes in the green section are attractive, those in red are not. The bigger driver, to me is the sentiment, but when sentiment is mismatched with reality, there is the best opportunity. There is a value judgment that needs to be included to determine whether to be long, short, or flat, but worth a look.
HY is Bulletproof

I can't help but think of those t-shirts that go through the 5 stages of tequila – the I'm bulletproof sticks out in my mind. It appears that nothing can go wrong. Every bit of good news from the Fed and Washington is priced in, yet the reality is that some of these companies are going to struggle in what is just an okay economy. I think the High Yield ETF's in particular have bonds that limit the upside, so it is a current favorite short.
US Stocks are Almost As Bulletproof

So much seems priced in. The fiscal cliff is assumed to be averted. Ben will add more things to his QE shopping list. Somehow everything will work out well. That is dangerous, and the economic reality isn't so good.
Housing is showing some signs of strength. That is good and very encouraging, but it is from a low base, so easy comps, and I don't see any return to a big housing led economy just yet.
At the same time, consumer spending is weakening, and the latest job data has been a bit disappointing. Hurricane Sandy is unlikely to be beneficial to the economy, so I think we are muddling through.
US stocks seem overvalued by a bit to me, given the heavy reliance on Hopium than reality.
Apple

What can you say, but I see growth slowing as more competition comes in and they become category leaders rather than category definers. It isn't yet embarrassing to be caught with an iProduct, but it certainly doesn't brand you as "cool" anymore.
So much is priced in on future ability to conjure up new products, while ignoring how many other "great" tech companies have failed to remain great, that I rank the hopium versus reality as too high to be sustainable.
China

China remains interesting. People seem pessimistic on it. I really don't hear a lot of bullish talk about China, and yet, the economy seems to have stabilized and maybe even turned the corner? I want to see more data, but China is attractive here, and given the weak performance, think it has upside as the bit of pessimism coupled with a bit of growth means there is a catalyst for higher.
Greece

Greece continues to show up in my ok list. Tricky to play since I won't touch their stocks, and their bonds are in the process of being bid away (I like the bonds) so it is hard to figure out how to play this. I am trying to go through the GDP warrants. In any case I am becoming convinced that the economic reality has moved from falling into the abyss mode, into just slowing. That isn't great, but when coupled with the complete doom and gloom attitude towards the country, I see this as an area of potential upside surprise.
Europe

Europe strikes me as less risky than Apple but more risky than Greece. Investors have become way to optimistic on things like OMT and Greece without any real evidence of them working, or even becoming reality. The data continues to be bad and I just don't see that changing.
Disclaimer: The content provided is property of TF Market Advisors LLC and any views or opinions expressed herein are those solely of TF Market Advisors. This information is for educational and/or entertainment purposes only, so use this information at your own risk. TF Market Advisors is not a broker-dealer, legal advisor, tax advisor, accounting advisor or investment advisor of any kind, and does not recommend or advise on the suitability of any trade or investment, nor provide legal, tax or any other investment advice.