Yeah, Futures are up, going to be a great day!

For some reason people seem even more excited that futures are up this morning than they have the past 6 mornings. Yes, I took positions off as we approached overall target levels (1,400 on S&P and 100 on IG19) but can now reload what got covered.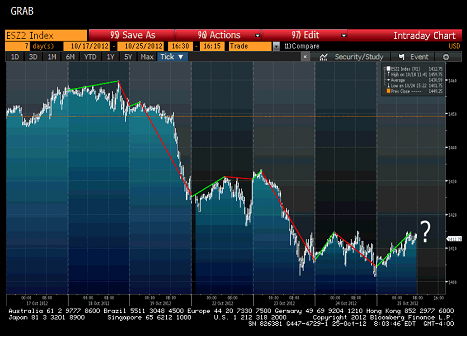 At 1,410 I am much more nervous about a big rally than I was earlier in the week. But this has been a great week to be a nimble bear.
Last Thursday, exactly a week ago, futures were higher overnight, only to fade once $GOOG rained on the parade.
Then on Friday, they creeped up a bit, only to take a big hit.
On Monday, up for awhile, and didn't finish a lot worse as market rallied into the close PPT style.
Tuesday, tried to go higher, then sold off hard as there wasn't a buyer.
Yesterday, up early again, before taking it on the chin.
So who knows what today will holds, but making the call that we hold early gains seems too bold.
Same Problems, Same Potential Counters

Europe and Earnings remain a core problem. No sign that either are getting better. The central banks are still there, but more serious doubts creep in every day about how much they can do. Lastly is the belief that economic data has been great. I have seen okay data, not great. People seem to be clinging to what they want to believe and there is enough data that has been very good, you can spin that story, but I don't see it. Today's unemployment claims may be what stops today's attempt at a rally.
To be clear, I am not as bearish as earlier in the week. My target range of 1,375 to 1,400 is in range. I will continue to recommend taking off risk at a profit to be able to load up, and will soon be looking to accumulate some risk as the levels are more attractive and QE will have an impact over time. Realistically, I am concerned whether we have seen the bottom, but I don't think so.
Apple Makes History Today

For the first time a single stock and a macro asset class will report earnings at the same time. Seriously, I am not sure if I have ever seen a case where an individual company's earnings could have so much impact on the indices. Maybe the banks during the crisis had that sort of impact? Other than that, the impact of Apple seems unprecedented. I am looking for some weakness coming into the earnings, only because I don't think the "believers have dumped" but this one could be all over the place.