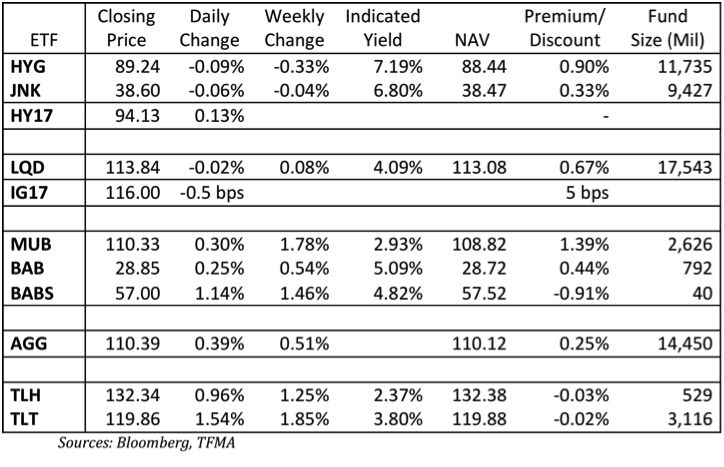 HYG and JNK have now attracted more than $1.3 billion yet are both struggling to show gains.  The premium has dropped as the prices have dropped while NAV has crept up.  Given the flows, and the general view that High Yield Corporate Bonds offer good value, I'm surprised we haven't seen a spike higher in the market.  Concerns about potential supply continue to weigh on the market, along with a few specific credit issues.  The outperformance of HY17 vs the ETF's has been good with HY17 up 1.25% on the year.  We remain neutral on the space, though looking at it from the long end again, though would now think the ETF's might offer more value than HY17 as so many "hedges" have been taken off, it could get hit quickly in any risk off trade.
Investment grade just has very little room to do better on a yield basis.  Financials may finally catch a bid, giving a lift to LQD outright, but we remain more convinced that it is a short outright, but potential long on a rate hedged basis.
BAB is much better than BABS as it is a much larger ETF.  The muni space has done well, although we liked it outright, we liked it more on a spread basis.  The spreads moved nicely at first, but the performance of the treasury market the past few days has hurt that.  We continue to like this space, outright, but with a bias to own it with a rate hedge.  We like BABS more as they trade at less of a premium and may attract some institutional interest in any reach for yield scenario.